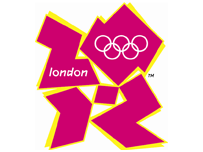 The new London 2012 Olympics logo looks like a car-crash. Which is, I suppose, somewhat appropriate. I can only assume that this was done deliberately to make the 2012 Olympics a laughing stock.
Hopefully someone from the IOC will see the logo, realise that we're not taking this at all seriously and let some other city host the games instead of London.
Update: The BBC have published some alternative logos that have been sent in by readers. Can I just say that Sean Stayte (logo number 5) is a very naughty man. And that the editor who published that picture is either very naive or else has a keen grasp of internet memes.
Update: The dubious logo has been removed from that page. But the direct link still works.