(But the "Chinese curse" kind of interesting)
This evening I got home at my usual time, picked up my post from the doormat and was sitting on the sofa reading it. Suddenly I heard an almighty crash followed by the sound of running water. It was coming from the kitchen. I ran in and found this.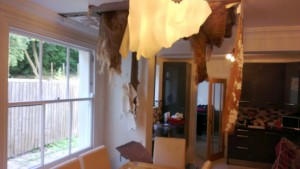 And this.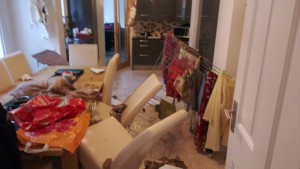 The ceiling had collapsed, scattering rubble and water everywhere. And water was still pouring out of the hole. Looking up into the hole, I saw this.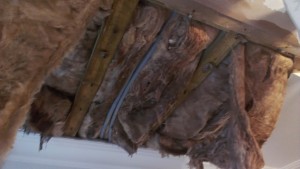 It seems that something had been leaking into the lagging for a long time. The lagging had been soaking up the water, getting heavier and heavier, until today was the day it got too heavy for the ceiling to support it any more.
I got on the phone to our buildings insurance people. They have registered my claim and are sending a surveyor round next Tuesday (six days seems rather a long time to wait). Then I got in touch with Aspect to get a plumber round to see if he could work out what was going on. While I was waiting for him, I cleared up the most important bits of the mess – cleaning and drying the chairs and moving the table out from under the drips. The plumber arrived about an hour later and started to investigate.
What he found seemed to bear out my theory. But the question was, where was the water coming from. The bathroom is directly above the hole, so there were plenty of suspects. But he soon tracked it down to the shower and fixed it. Then, before he left, he ripped out the wet lagging so that there was no water left to drip on the floor.
So everything seems to work properly again. I haven't had to turn the water off and there's no longer water dripping into the kitchen. There's just rubble and water all over the the kitchen floor and a big hole in the ceiling. The insurance company will pay for someone to fix the hole, but I'm going to have to do as much as I can to tidy up. I've done some this evening but I'm bored and going to bed now. I'll do some more tomorrow.
But this certainly hasn't been the evening I had planned.
Some of you will remember that we had a lot of work done in the house in 2010. The leaky shower was fitted as part of that work. It wouldn't surprise me at all if the shower has been slowly filling the ceiling with water since then. Bloody builders.