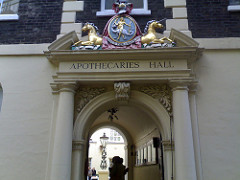 (Well, stage one of the project, anyway.)
A couple of years ago whilst I was working in the heart of the City of London, I noticed that my lunchtime wanders were taking me past a few of the City Livery Halls. I'd always been aware of the Livery Companies, but I'd never really investigated them, so I didn't know how many of them there were or how many still had Livery Halls. So I decided to find out a bit more about them.
I also started taking photos of the halls that I passed. Of course, when you have the collector gene that I have, just taking pictures as you wander past buildings randomly isn't enough. I had to find out where all of the remaining halls were and get pictures of them.
And finally, a couple of months ago (as I was walking to a London.pm meeting) I took photos of the last three. I only uploaded them to Flickr last night as I had some trouble with Shozu (which may or may not be related to the general phone weirdness I mentioned last week). But anyway, I fixed the phone last night and was able to upload the final pictures.So now I have a set of photos which (as far as I know) contains all of the Livery Halls. There are forty-one pictures in the set, but one of them is a plaque marking the site of the Cooks' Hall which is no longer there (they kept burning it down). If you know of any I've missed, I'd love to hear about it.
Why do I say that this is just the end of stage one of the project? Well, I was a bit disappointed to see that there was no good site on the web to get information about the Livery Companies. What information there is out there is scatter amongst a number of sites. So I decided to put that right. I'm in the process of building liverycompany.org.uk which will hopefully become the definitive place on the web to find information about these fascinating institutions.