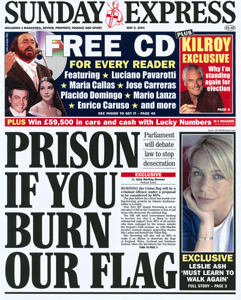 I've never seen the point of patriotism. As far as I can see nothing good ever came out of people being patriotic. And one of the most stupid manifestations of patriotism is when people start to treat their countries flag as an object of reverence. I've always found it really funny when people in the USA get upset about people "desecrating the flag". Whenever I hear about people being imprisoned for mistreating the US flag I'm always grateful that I live in a country that has a bit more perspective on these things.
But that might not be true for much longer. According to front page of today's Sunday Express a group of MPs want to pass a law that would make desecrating the flag a crime in the UK.
It's laughable.
Update: I should make it clear that of course I don't think that everyone from the USA is like that. But there are enough of them to make it all a bit worrying.