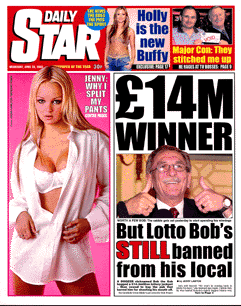 Abysmal UK tabloid The Daily Star ran a story today saying that "actress" and "singer" Holly Vallance will be taking over the part of Buffy from Sarah Michelle Gellar in the next season of Buffy the Vampire Slayer.
It's unfortunately not on their web site, but their sister paper The Daily Record is running a very similar story.
See how many factual errors you can spot.
Update for the hard-of-understanding (as people seem to be picking up this entry from Google or something)
There is no truth in the story at all. The British tabloid press is well-known for making up stories when it suits them. I posted this as an example of those inventions. Please don't think that this has ever been a possibility. Buffy is finishing at the end of season seven. No more programmes will be made. No-one else will be playing Buffy.