Did you know that the word "gullible" doesn't actually appear in the OED?
A lot of people I know spend a lot of time poking holes in tabloid stories. It's fun hobby for all the family. The tabloids are so bad at checking facts that it's usually easy to find the basic flaws in things that they print. The internet makes it so easy to check facts that there's no excuse not to do it. Oh, sure there's a lot of nonsense out there too but it's usually pretty simple to separate the facts from the nonsense.
Which is why it's disappointing when people just don't bother.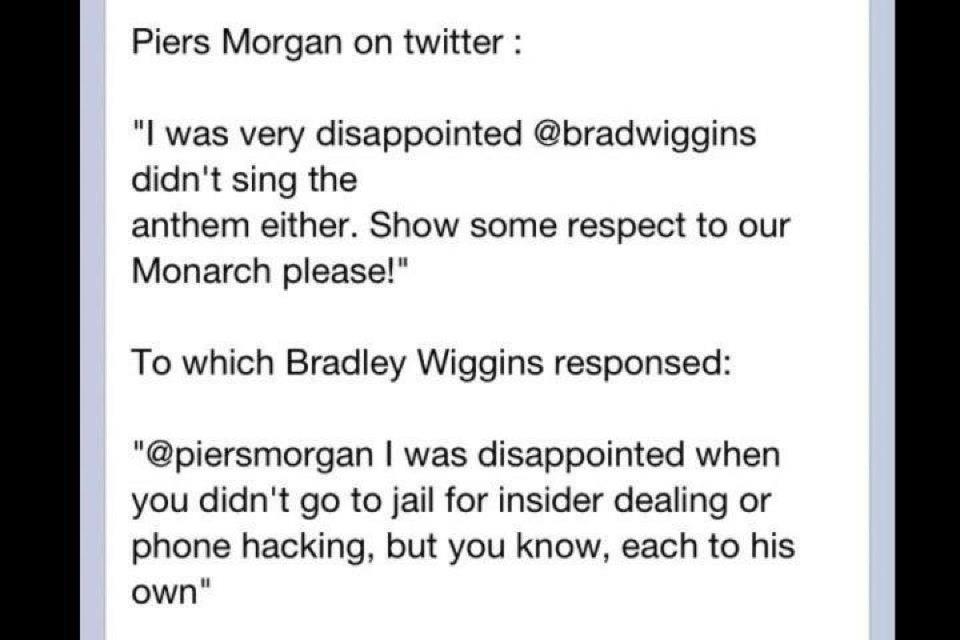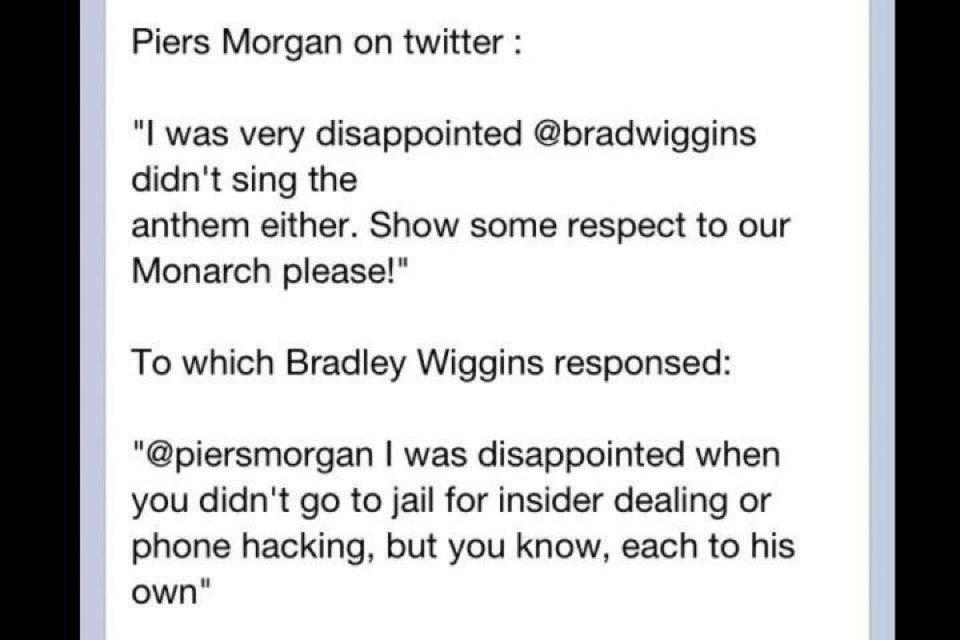 This image was all over Twitter and Facebook when I woke up this morning. It's a great image. The idea of a sporting hero like Bradley Wiggins having a go at Piers Morgan like that is brilliant. It would be fantastic if it was true.
It's not though.
And it's easy enough to find out what actually happened. Both men have public Twitter feeds, it's just a case of searching back to find the tweets in question. It took me a couple of minutes to find this exchange (it's from a week ago).
And yes, I was very disappointed @bradwiggins didn't sing the anthem either. Show some respect to our Monarch please!

— Piers Morgan (@piersmorgan) August 2, 2012
.@piersmorgan I was disappointed when you didn't go to jail for insider dealing or phone hacking, but you know, each to his own @bradwiggins

— Colm Quinn (@mrcolmquinn) August 2, 2012
See that. The reply isn't from @bradwiggins at all, it's from @mrcolmquinn. And he wasn't even pretending to be Bradley Wiggins or anything nefarious like that. He just included @bradwiggins' name in the tweet so that Wiggins would see what was going on.
I'm not sure what happened after that. I think that for almost a week nothing much happened. At some point those two tweets were turned into the image above. I don't who created the image or why they did it. I don't even know whether they misread the tweets and genuinely thought that the reply came from Wiggins or whether they were trying to cause trouble.
I do know that overnight last night people started to share the image on Facebook and Twitter. And that pretty much everyone who shared it didn't bother to do the two minutes of research it would take to find out what really happened.
The reply was a good one. Morgan certainly deserved it for being such an idiot about the national anthem. And I'm glad that it got a wider audience. I just wish that people weren't taken in so easily when they see something that they want to be true.
The next time you go to share something like this with your friends, why not pause a couple of minutes and find out whether or not it's actually true. Prove that you're better than a tabloid journalist.
Oh, by the way, it's not true about the word "gullible" either.