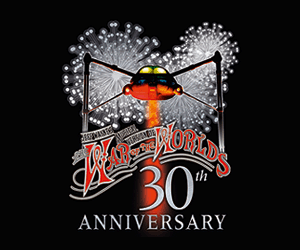 I've always had a massive soft spot for Jeff Wayne's musical version of The War of the Worlds. I think that the album must have originally been released pretty soon after I read the book for the first time. And it must have really struck a chord with me. I borrowed a copy from the library, recorded it and listened to it constantly for several months. That was all, it would appear, thirty years ago.
When I went to university in 1981 we were all cool and trendy and listened to bands like ABC and Dexy's Midnight Runners. But there was always a time late at night, sitting in someone's room in the halls of residence when War of the Worlds would go on the turntable. And I have a distinct memory of at least one conversation when we were planning a stage show based on the record.
The stage show eventually saw the light of day in 2006. At the time I didn't have my ear to the ground and it passed me. I was most disappointed when I found out. But it as the thirtieth anniversary of the original release is upon us they have decided to take the production out again. It will be touring the UK next year. I've just bought tickets to see it at the O2 Arena (the old Millennium Dome) on June 20th. Tickets are ludicrously expensive (around £50) but I strongly suspect it'll be worth it.
I'm really looking forward to it.