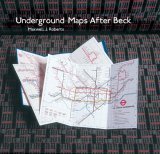 My Amazon wish list took quite a battering (but in a good way) over christmas so I needed to find some new things to put on it. Luckily a shopping trip to buy presents for other people gave me plenty of inspiration.
A new (ish – well I can't remember seeing it before) Books etc shop opposite John Lewis on Oxford St had a larger than usual section of books on London and that contained a number of interesting looking books about the London Underground.
Anyone interested in the tube will already have a copy of Mr. Beck's Underground Map which traces the history of Harry Beck's version of the London Underground map. What I hadn't seen was a sequel to that book called Underground Maps after Beck which brings the history of the map up to date. And there's also No Need to Ask! Early Maps of London's Underground Railways which completes the story by looking at maps before Beck.
Another interesting book was Spread of London's Underground which shows how the tube has expanded (and, sometimes, contracted) over the years. It does this by showing what today's tube map would look like if it only contained the parts of the system which where open at various dates throughout the system's history. Combine that with London's Lost Tube Schemes and London's Disused Underground Stations for a pretty complete understanding of the tube's history.
And looking a bit wider, there's always Metro Maps of the World which contains maps of metro systems from almost two hundred world cities.
Did you know I was also a tube geek?